Why Should You Consider BOTOX® At Your Baton Rouge Dentist?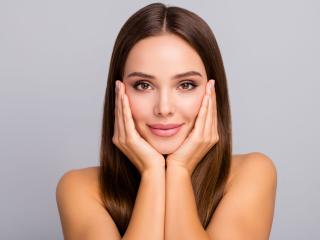 Corkern Dental is your one-stop-shop if you're considering getting BOTOX® in Baton Rouge. Now we know what you're thinking, "BOTOX® at my dentist office?" Many patients don't realize this, but the dentist is the perfect provider for this service. Your dentist has years of experience dealing with oral and facial structures. This makes them excellent providers of BOTOX® and other dermal filler options.

Whether you're looking to incorporate BOTOX® into your current cosmetic dentistry plan or simply wanting to try out BOTOX®, we recommend talking with one of our experts in a treatment consultation. Not only does Corkern Dental help you achieve the youthful smile you deserve, we help you frame it by giving you a plump and luscious complexion. But how can BOTOX® help your smile glow?
Does BOTOX® Make Your Smile Brighter?
We all strive for a perfect smile—something that highlights our youthful appearance. But over time muscles weaken, skin loses flexibility, and the structure of our face changes. In fact, a lot of outside factors can cause your complexion to diminish as you age. Long exposure to UV light, smoking, lack of sleep, and stress for example. Fortunately, with the help of BOTOX® Injections, you can maintain a picture-perfect smile.

As we age, environmental factors cause our skin to develop wrinkles and folds. There are two types of wrinkles BOTOX® can treat while improving your smile—Nasolabial and Marionette lines. Nasolabial wrinkles extend from your nose to the outer edges of your smile. On the other hand, Marionette lines appear at the corners of your mouth. BOTOX® injections help by returning the underlying muscle to its naturally tenacious state. By relaxing the muscles around your mouth, you're preventing them from wrinkling up and giving yourself a smile that really dazzles.

Incorporating BOTOX® into your cosmetic dental plan is like placing your favorite picture in a brand new picture frame. The skin around your mouth makes a natural frame for your smile, highlighting your teeth in all their glory. The whole process takes only minutes, so why not come in on a lunch break? Take advantage of our current BOTOX® special and save 15% until December 23rd!
Schedule A Consultation For BOTOX® In Baton Rouge
From dental bridges and teeth cleaning to fillings—both dental and dermal—Corkern Dental isn't just your average dentist's office. If you're interested in BOTOX®, dermal filler, or any of our other service options, call us at 225-452-2887 or schedule an appointment today. Our experts at Corkern Dental can help you develop a plan for a picture-perfect you. If you have any questions or concerns about these options do not hesitate to reach out to us. Get the smile you deserve, only at Corkern Dental.