What is a Porcelain Crown?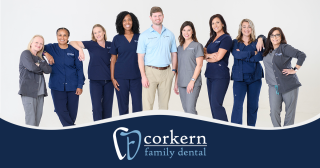 When a tooth needs restoration, sometimes the best choice is an all Porcelain Crown. It has the delicate translucency of your natural teeth.
Dr. Marc Corkern in Baton Rouge want you to have the best smile possible. At our office we create both traditional and "one day crowns" CEREC 3D system. In simple terms, a Porcelain Crown is a cap placed over another tooth to restore its shape and beauty. Here is some information about Traditional Porcelain Crowns.

An All-porcelain Crown has several advantages. It is strong and durable it has the lifelike appearance of natural teeth and there's no metal. It's a good choice for front teeth. The Crown is precision crafted in our on-site lab so it may take two or more appointments to restore your tooth with a Porcelain Crown.
Placing a Porcelain Crown

On your 1st visit will choose a color that matches your natural teeth.
We may also use a rubber dam to protect your mouth while we work. And we won't start until we're sure you're comfortable.
Then we remove any decay and shape the tooth with a handpiece.
Next, we place a small impression string between the tooth and the gum to gently push the gum away. This step helps us to get an accurate impression.

When the area is ready will remove the screen and then take an impression of your teeth.

Our lab uses this to create a Crown that precisely fits your tooth and bite.

In the meantime, we often place a temporary Crown so you can eat normally between visits.

On your next visit, we remove the temporary and try in your new Porcelain Crown.

Will make sure you love the way it looks and feels before we then cement the Crown permanently into place.

When you need a Crown, Porcelain Crowns from our office are a natural looking choice for a beautiful smile and healthy bite.

OUR MISSION
The affordable, Baton Rouge local, and professional dental practice of Dr. Marc Corkern provide pain-free, exceptional dental care, oral health, and patient education. We are dedicated to providing comprehensive dental treatment including developing a personal dental plan which includes ongoing hygiene care and periodic exams. We make every effort to educate patients about the benefits and advantages of appearance-related dentistry.